DR. GRACE TRIDICO
BACKGROUND
Born in Sault Ste. Marie to immigrant parents, I was taught early to be academic focused and to work hard. I obtained a Bachelor of Science Degree in General Biology from the University of Western Ontario. Following that, I was inspired to become a doctor who could help people without the use of drugs or surgery. I was drawn to the National College of Chiropractic in the Chicago suburb of Lombard, Illinois not only because of its vicinity to Sault Ste. Marie but also because it was one of the most respected chiropractic colleges in the United States. Subsequently, I went on to obtain a Bachelor of Science Degree in Human Biology and a Doctor of Chiropractic Degree from the National College of Chiropractic. Chiropractors in the state of Illinois have the capabilities of practising like a medical doctor. Hence, the curriculum at Chiropractic College was essentially similar to that of medical schools. The difference was that in chiropractic school there was more emphasis in anatomy and in patient treatments involving non-invasive and drug-free methods.
In the year 2000, I returned to set up my practise in downtown Sault Ste. Marie. Community involvement is important to me and I became involved with a number of non-for-profit organizations immediately upon my return to this city. To this day, I continue to volunteer my time with a number of local organizations.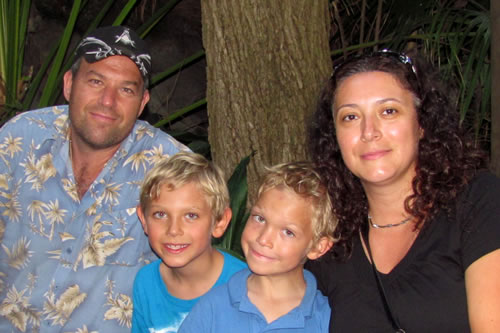 FAMILY-APPROACH TO HEALTH CARE
I work with my husband, Dr. Bryan Dumanski and we are the proud parents of two beautiful boys. From birth, we have adjusted our children and they have seen the first-hand value of health care without a primary focus on prescription medication. Our children are strong advocates of chiropractic care.
My life is my family, chiropractic and the community I serve. I have been blessed to have had the opportunity to help so many people feel better through natural methods.
SPECIAL INTEREST
Over the years, I have gained extensive experience in treating individuals of all ages, however, I have a special interest in treating pregnant women and children. I am especially empathetic to pregnant women, since I had experienced some physical complaints during pregnancy. Children enjoy visiting the office and are made to feel totally at home and comfortable.
TAKE CONTROL OF YOUR HEALTH
I love the skeptics! Nothing is more satisfying than having someone come to our office who initially really doesn't want to be there, but doesn't know what else to try. By the end of their treatment, they are telling their friends and family about chiropractic care and wish that they would have chosen chiropractic care as their first source of treatment, rather than their last resort.
FAVOURITE QUOTE
"The doctor of the future will give no medicine, but will interest his patients in the care of the human frame, diet and in the cause and prevention of disease." -Thomas Edison
This is chiropractic in a nut shell.
---
DR. BRYAN DUMANSKI
BACKGROUND
I was also born and raised in Sault Ste. Marie. I attended Lakehead University in Thunder Bay, Ontario and Logan College of Chiropractic in Chesterfield, Missouri. The most eye-opening experience at Chiropractic College was when we learned about gross anatomy. Learning how the human body and its central nervous system functions at the most intrinsic level was simply amazing. Then learning how this central nervous system is tied to the rest of our bodies and how it controls our overall health was inspiring and set the stage for the rest of my learning at Logan.
I returned to Sault Ste. Marie to set up my practice. As an avid outdoorsman, I knew all too well that Sault Ste. Marie has some of the best fishing and hunting locations in North America.
HELPING ATHLETES AND OTHERS
I have spent numerous hours coaching and training athletes of all ages, particularly in soccer. I have a special interest in sports-related injuries. To become better competitors in sport, athletes must learn and understand how proper biomechanics can improve one's performance and endurance. Through my experience and knowledge, I am confident I can help a majority of patients who walk into my office.
CLINICAL FOCUS
Aside from sports-related injuries, I take particular interest in treating shoulder and knee complaints. I use a combination of traditional chiropractic techniques and modern evidence based therapeutic procedures into each patient's individual treatment plan. I strive to deliver specific and gentle procedures which allow for the very best patient outcomes.
WORKING WITH OTHER HEALTH CARE PROVIDERS
I care about the health and well-being of every patient I treat. When cases require medical testing and medical intervention, I never hesitate to refer my patients to other specialized physicians. My patients are made to feel comfortable asking questions about their health so they may take an active role in their recovery.
ACTIVITIES BEYOND CHIROPRACTIC:
THE NEXT CHAPTER
I am currently working closely with Health Canada on developing and manufacturing topical analgesic ointments and other natural health products.
I am a proponent of medicinal CBD, cannabinoids and many other novel phytochemicals God has bestowed to humanity. "Guard it well".
FAVOURITE QUOTE
"Look well to the spine for the cause of disease." -Hippocrates
---
MEEKA
Meeka is the clinic "therapy dog". She is a pure bred border collie, well-behaved, extremely obedient and highly intelligent. Her sweet friendly disposition has a soothing effect on everyone. She likes when patients bring in the occasional dog treat. She is exceptional around children.